Friday 18th Jan

$

15
+ booking fee
5 – 10 PM
Rushmore events are taking over for one night featuring a huge range of local craft beer, cider and spirits + the Rushmore party DJs all day and night.
Sat 19th Jan
Day Session

$

20
+ booking fee
11 AM – 4 PM
Live music
Roving Performers
Kids Activities
Sat 19th Jan
Evening Session

$

30
+ booking fee
5 – 10 PM
Featuring Sneaky Sound System
Sun 20th Jan

$

20
+ booking fee
12 – 5 PM

Live music
Roving Performers
Kids Activities
FAQ – Frequently Asked Questions
WHEN IS PERTH BEERFEST ELIZABETH QUAY?
Friday 18 – Sunday 20 January, 2019
WHAT ARE FESTIVAL TIMES?
The festival is broken down into 5 hr sessions, which are:
Friday: 5 – 10 PM
Saturday (Day): 11 AM – 4 PM
Saturday (Evening): 5 PM – 10 PM
Sunday: 12 – 5 PM
WHERE IS THE FESTIVAL?
Elizabeth Quay, The Esplanade, Perth WA. See location on Google Maps.
WHERE CAN I BUY MY TICKET?
Tickets are available now via eventbrite.
HOW MUCH ARE TICKETS?
Tickets are available between $15 – 30 with a discounted session pass (access all sessions) at $65.
WHAT DO I GET FOR THE PRICE OF MY TICKET?
Your General Admission Ticket includes:
1:1 interaction with a huge range of Craft Beers, Ciders, Rum, Whisky and more, along with an exclusive hands on experience with WA producers!
FREE, reusable and dishwasher-safe BeerFest Festival cup.
LIVE entertainment (Look out for entertainment schedule closer to the festival date)
Live music
Live comedy
Kids entertainment and activities
WILL THERE BE ENTERTAINMENT
Yes, there will be live music, comedy and other forms of entertainment throughout the entire weekend. For the full entertainment lineup, look through our festival event guide.
Currently announced: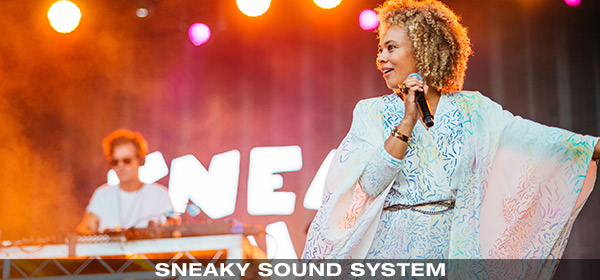 Sneaky Sound System will be performing live on Saturday 19th January (evening session).
Who will be there?
A wide range of local WA favourites and nation wide breweries, cider producers, distillers, cocktail makers and some of the best local stree food. In the coming weeks we will announce our full list of stall holders and provide a site map.
How much are the drinks?
Drinks will vary from $1-$2 for 100ml tastings to $6-$8 for a 285ml pour and will be decided by the stallholders.
Are there tokens? Can I use my credit card?
Beerfest has no tokens, cash cards or any currency other than Australian dollars. You can use cash and in some cases EFTPOS is available. EFTPOS will be at the gate and 4 x ATMs will be on site.
Are there ID or minimum age requirements to enter the event?
A wristband allowing drink purchases/ consumption is only given to people 18+. Under 18's must accompany a paying adult 18+.
How do I get there?
For a full schedule for anywhere around Perth & surrounding suburbs please visit transperth.wa.gov.au and click on journey planner.
Will there be non-alcoholic beverages?
YES! There will be a variety of amazing food, water, juices and soft drinks available for purchase onsite. Complimentary water stations will also be provided.
Will there be pass outs?
Yes, each session runs for 5 hours, so you may have time during the festival to explore the beautiful surrounds of Elizabeth Quay.
Can I bring my pet?
We love our cuddly friends as much as everyone. However, sometimes our little friends can make people uncomfortable or become a health problem where food is around so we just can't let them on site. If there is a medical need for your pet, please contact us to organise in advance.
What items can I bring (and NOT bring)?
A folding chair is allowed at the festival. Bags/ jackets may be subject to search on entry.
Prohibited items include, but are not limited to:
Outside alcohol
Bottles
Cans
Outside food/ beverages
Weapons (i.e. knives, pepper spray, stun-guns, any concealed weapons, firearms, etc.)
Illegal drugs
Chemicals
Fireworks, smoke bombs, etc.
Backpacks, suitcases, large beach bags, etc.
Skateboards, roller skates, ice skates, use of roller shoes, etc.
Unapproved pamphlets, handouts, advertisements, etc.
Other items as determined by facility management
What are the terms and conditions of entry?
Event management reserves the right to handle each occurrence on a case by case basis. Depending on the item, the guest may either be asked to remove the item from the facility or dispose of the item, or may be ejected from the facility. All bags, jackets, and guests are subject to search upon entering the event.
Items which have varying policies include: cameras, video/audio recording equipment, and signs/ flags/ banners/ posters.
Can I smoke anywhere at the festival?
BeerFest events are non-smoking events, there will be designated areas will be signposted throughout the site.